Last night my boyfriend called me a boy.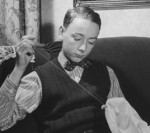 Because I passed him a garment of clothing, made puppy-dog eyes at him, and asked if he would sew on a replacement for a missing button.  So, yes, I realize that makes me kind of a boy.  But then I bribed him (like all women do–come on, admit it).  This is the deal I made:
You fix it, I'll wear it.
He also harassed me about hiding so many shoe/boxes all over the apartment, taking up space where other things might be stored.  So I made this point:
I keep them, I'll wear them.
Done deal, did it.  So off we went with me in a mini-skirt and pink high heels—even though I'm working with a twisted ankle.  And the secret to the magic of the mini skirt is this:  it makes your legs look longer.  Add to that cute pink heels, also lengthening your leg, and no hot-blooded man could resist.
I wonder what else I can argue my way into hiding in the apartment……